Ernest Valdez, Jr. asked how he could wirelessly send a video signal from his computer to his HDTV.
There are number of ways to do this, although they may not provide what you want.
First of all, a great many televisions today have WiFi built in, which allows you to wirelessly connect them to your home network, and thus to your computer. So do many new Blu-ray players--and they're a great deal cheaper than HDTVs. But is WiFi really your best option?
Depending on your home's geography, WiFi may not be reliable enough for quality streaming video. If it isn't, consider using Ethernet. All of the TVs and Blu-ray players that support WiFi,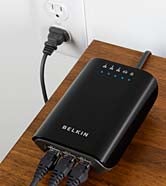 and many that don't, have Ethernet. If stringing an Ethernet cable from your router to your TV isn't practical, HomePlug devices--which use your home's electric grid to transmit data--can easily give you an Ethernet connection to any room in your home.
You probably already know that,--however they're connected--networked HDTVs and Blu-ray players can play Internet streaming video. Virtually all of them offer Netflix. Many have YouTube, Pandora, and at least one pay-per-view service. Newer ones are including Hulu Plus.
Most of them can also play videos and music, and display photos, off of any computer on the network. The computer has to be running DLNA server software, but that's not difficult. Windows Media Player--which comes bundled with Windows--is such a server.
But these features don't make the HDTV or Blu-ray player as versatile as a computer. They can't play all of the streaming video services that your browser can handle, nor do they support every media file format that you might find on your PC. That's why many people like to plug their computer into their HDTV.
Of course, that's not a wireless solution.
Or is it? I tested two wireless PC-to-TV devices for this article. Atlona's AT-AiR3 and Cables Unlimited's Wireless USB to HDMI & VGA Adapter with Audio appeared to be the same product in different packaging, although only the Atlona's supported 1080p. In both cases, you plug one USB device into your PC, and plug another one into your HDTV via not-included HDMI or VGA cables.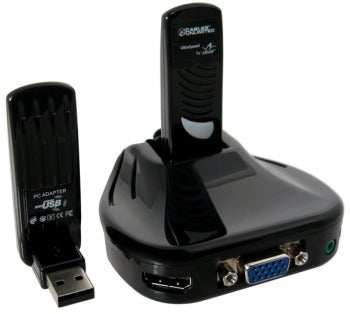 Both had the same problem: a software installation that makes major changes to Windows' Registry and adds an autoloader. Also, their ranges were limited; you basically had to be in the same room as the TV. But each allowed me to watch PC content on the television while my laptop was at my fingertips. Their image quality was equivalent to using the PC's HDMI port.
How to Watch TV on Your PC
The easiest way to watch TV on a personal computer--and the one that's most popular now--is to view programming over the Web. The major networks, a number of cable channels, and general sites such as Hulu allow you to view shows in your Web browser. If you want a more direct connection to your TV, you'll need extra hardware, namely a TV tuner.
Tuners essentially turn a computer into a TV set. Usually they include software that allows you to record programming on your computer, too, so you can watch shows on your schedule and not a TV network's. If you have a media center PC, a tuner may already be built into the machine. If you don't have a tuner, you can add one either by installing a tuner card into your PC or by connecting an external tuner.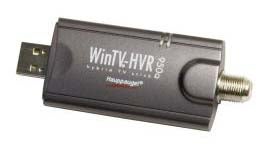 External tuners have several advantages. Connecting one is easier than opening up your computer and installing a tuner card. The tuner doesn't take up a slot in your PC. You can easily disconnect it when you're not using it. And some models have the same design as a USB thumb drive--they're not only very portable, but also easy to use with more than one computer.
Two major makers of external tuners are Hauppauge and AVerMedia. Although the instructions for installing an external tuner may vary slightly from maker to maker, the general steps are the same regardless of model.
Step by Step: How to Set Up an External TV Tuner
Step 1 With your computer running Windows, plug the tuner hardware into a USB port. If the spacing is tight between the ports on your machine, you may want to use an extension cable with the USB tuner. In most cases it is not advisable to connect the tuner to a USB hub.
Step 2 Plug an antenna or cable TV cable into the antenna-cable-TV connector on the tuner. The connector is threaded and looks like the coaxial connector at the back of a TV or cable box. Some tuners include an antenna for receiving over-the-air TV broadcasts. If you want to view over-the-air TV but your unit doesn't have an antenna, you'll have to buy one. Rooftop antennas provide better reception than rabbit-ear antennas. Cable provides better reception than either type of antenna.
Step 3 If your tuner supports video recording, you'll want to plug in the A/V cable included with the device. The cable will have composite video and audio RCA plugs--red, white, yellow--and maybe an S-Video connector at the end of it that plugs into your TV or other device you'll be recording from. Depending on the design of the tuner, the end of the cable that fits into the tuner may be a single plug or another set of composite plugs.
Step 4 When you connect the tuner to your computer, Windows should pop up a 'device found' alert. If it doesn't, you might have to reboot your machine to wake up Windows to the new hardware you've installed. Either way, the alert is your tip-off to install the software packaged with your tuner. Typically that will be a two-step process: The first step installs the drivers for the device, and the second installs the applications for it.
Step 5 Once installed, the software will take you through the steps to start viewing TV on your computer.
Connect Your PC To Your HDTV
Your TV has come a long way from the days of rabbit-ear antennas and VHS players. No longer must you suffer the indignity of having to rewind a tape before returning it to Blockbuster, or of bribing a small child to hold the antenna in just the right position so you can enjoy fuzz-free viewing of Hawaii Five-O (the Jack Lord version, not the remake).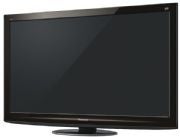 Don't get complacent, though: You're still probably not on the cutting-edge yet. Have a pile of remote controls littering your coffee table? Archaic. Don't have a single Internet source for HD streaming video? Unacceptable. Still use composite cables for your gorgeous new LED HDTV? Downright unforgivable. But that's okay. We're here to help. Just check out the package of how-to guides on the right-hand side of this story.
Maybe you're looking to cut your monthly costs by ditching your cable TV in favor of a collection of free-or-cheap Internet streaming services. If so, our "From Your PC to Your TV" and "BitTorrent to TV" how-to articles could come in handy. Or maybe you already have a media-streaming set-top box--such as a Roku or an Apple TV--but you want to add more channels. Well, here's how to hack it.
On the other hand, perhaps you're looking for a way to keep up with your favorite TV shows even while you're away from your living room--in which case the answer is to stream live TV to your PC. And to deal with that colony of remote controls cluttering up your coffee table, you don't have to buy a snazzy new universal remote. Instead, you can ditch them all and use your smartphone as your remote. So get to it. All that TV isn't going to watch itself.
Would you recommend this story?